Hello friends!
Only
10
days left until the
Jolly Old Man
makes his way into our homes!
Are you ready? Have you got all those beautifully wrapped gifts nestled under the tree?
NO?
Join the club!
I
should
be wrapping gifts, but instead I'm reminiscing about my childhood.
You know what they say, "Christmas brings out the child in all of us". Let me tell you why...
Growing up in New York City, I have many special memories of Christmas in
the city tht never
sleeps!
Living in an apartment building people always asked how Santa delivered presents to our home if we didn't have a chimney? Why Santa doesn't need a chimney! And no, we didn't leave our doors unlocked! Santa has a special key that he uses to gain entry into apartments. At least that is the explanation my father used when I asked how Santa came into our home. He was right, because Santa always left presents under our tree!
If you don't have a chimney, don't fret. Here is a sweet little poem to print out that will put worrying minds at ease! Go
here for a printable file
Our stockings hang upon the wall.
We have no fireplace at all!
You see the problem is quite clear.
Santa, how will you get in here?
We hear a legend. Is it true?
Of magic only you can do.
We'll leave out any plain old key
And mark it "Santa" so you can see.
Your magic makes the key fit right.
So you can get inside that night.
Thank you Santa, here's our key.
The milk and cookies are on me!
Print out on cardstock and attach with ribbon to a skeleton key like in the photo above!
Skeleton keys can be found at places like Hobby Lobby.
For some more really cute ideas
look here
.
I no longer live in
The City
but I have great memories of Christmas among all the hustle and bustle. One of my favorites were the department store windows! Stores like Lord and Taylor, Bergdorf's, Macy's and Saks always have the most beautiful themed displays! The lines are usually long this time of year but so worth it to get a glimpse of the magic of these Christmas windows!
Isn't it funny how a certain smell can evoke a special memory? For me it is the smell of the pretzels and roasted chestnuts coming from the corner street vendors. There is nothing like holding a bag of roasted chestnuts to warm your fingers on a cold blustery day!
Of course we would visit Santa at FAO Schwartz! Back then FAO Schwartz was nothing like it is today. It was a much smaller store but it provided the same excitement with all those toys!
If you are planning a trip to New York City this holiday season there are also a few lesser known, off the beaten path attractions that are definitely worth a visit too!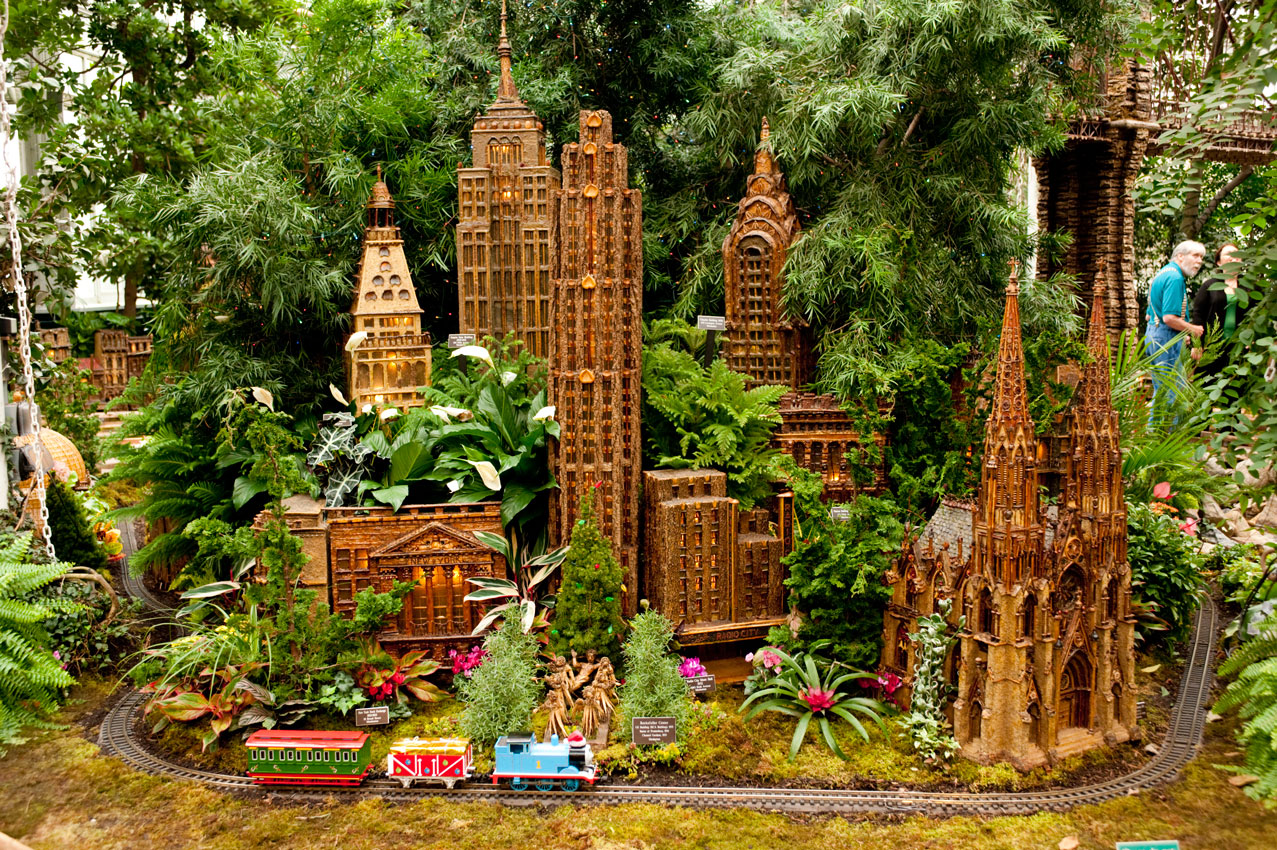 The Holiday Train Show at The New York Botanical Garden
has the most spectacular display of a model train traveling through replica New York City landmarks made out of all natural material's like bark, nuts, moss and leaves. A must see! The best part is you can enjoy this attraction in the warmth of the Conservatory!
If you'll be travelling by subway, get off at Grand Central Station (42nd St.) and go witness the hustle and bustle of New Yorkers on the go in this beautiful concourse!!
This year, Grand Central celebrates its
Centennial Birthday with a Holiday light show
. But hurry, because it only lasts until December 26th!
All the rushing about will surely have your tummy rumbling. Check out
The Oyster Bar & Restaurant
featuring one of the largest and freshest seafood menus in the city! Not in the mood for seafood? Check out
this map of 35 dining options
all in Grand Central!
The
Holiday Lights Night bus tour by CitySights NY
is the easy way to get your New York Holiday fix. What better place to start your tour than Times Square! Get your cameras ready as the bus continues downtown and over the Manhattan Bridge for an unparallelled sky line view of Manhattan from Brooklyn!
Other Holiday bus tours are given by
Gray Line
,
NY See The Lights Tour! by On Board NY
, and
All New York Tours
. If a Griswold Christmas is more your style, then head over to
A Slice Of Brooklyn's Christmas Lights and Cannoli Tour
for the 3 1/2 hour tour of homes in Brooklyn's Dyker Heights. As highlighted on their website, "Rockefeller Center?
FUHGETTABOUDIT!
If your not able to visit my hometown this holiday season, I hope this little trip down memory lane was enough to spark some child like excitement for what's to come in the next